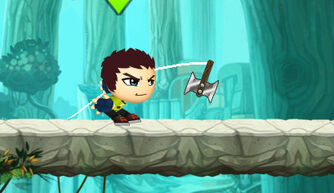 Throwing Axe
Edit
Thrown Weapon
Kills on contact with enemy
Upgrades increase axes thrown and speed (maximum of 2 axes).
Requires decent accuracy, but it's a spectacular kill when used correctly.
List of Characters using this
Edit
Allows for good clearing of players.
Ranking of similar weapons:
Throwing Axe
Throwing Axe ranks 4th place due to difficulty of aiming and slow reaction. Although, it might be slower than the Egg but, the chances of getting a "lucky shot" are pretty high.