Stages are the places where the races take place. Each stage includes unique features usually not found in any other stage. Stages can be unlocked by advancing to higher leagues. It is important to learn each of the stages layout in order to place 1st. Each stage also has obstacles which can be advantageous or harmful. Every stage has 2 common obstacles which are Speed Ramps and Slow Ramps.
List of Stages Edit
The following is the list of stages in Battle Run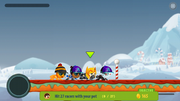 Ad blocker interference detected!
Wikia is a free-to-use site that makes money from advertising. We have a modified experience for viewers using ad blockers

Wikia is not accessible if you've made further modifications. Remove the custom ad blocker rule(s) and the page will load as expected.