Ad blocker interference detected!
Wikia is a free-to-use site that makes money from advertising. We have a modified experience for viewers using ad blockers

Wikia is not accessible if you've made further modifications. Remove the custom ad blocker rule(s) and the page will load as expected.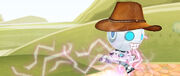 Robo Shock
Edit
Melee Weapon
Applies Shock effect on contact 
Upgrades increase length of weapon
Robo Shock surrounds Chip, it can attack opponents in front or behind, shocking them for about 3 seconds. However, it is a very short ranged attack which means, you would have to be close to the opponents to apply the weapon. (Similar to Pyrosaur's attack phase)
Has the worst range, but the greatest effect.
Ranking of Similar Weapons:
Robo Shock
Robo Shock ranks in 3rd place due to its fast attack and greatest effect. It does, however, have a short life span and attack range but, it is also the fastest and has the greatest effect. It is good for leaving players behind and taking the lead.