Game Hive​ is the company that created Battle Run.
Game Hive's description of themselves:
- "Founded in 2009, Game Hive is a pioneer in creating the best game experiences across multiple mobile platforms. Mobile games combine the unique elements of interactivity and connectivity. With this in mind, we strive for razor sharp focus and effort in order to create truly unique mobile gaming experiences."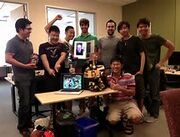 -"From our early success with the Antrim Escape series, to our monster franchise Beat The Boss, Tap Titans and popular hit Battle Run, we understand that the best way to engage players is to be super passionate about our games and our culture."
-"There are few studios worldwide that are able to achieve 100+ million downloads with a team of our size. A small team allows everyone to be a big part of the project and therefore truly helps deliver the creative vision. Here there is no office bureaucracy or dreadfully long meetings – we simply make games the way we dreamed about them when we were kids."
Contact Info
Edit
If you want to contact Game Hive for questions, comments or concerns, here are the links to their webpage and mobile links.
Ad blocker interference detected!
Wikia is a free-to-use site that makes money from advertising. We have a modified experience for viewers using ad blockers

Wikia is not accessible if you've made further modifications. Remove the custom ad blocker rule(s) and the page will load as expected.