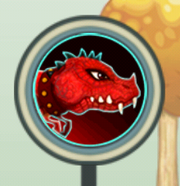 Dragon
Dragon is a pet in Battle Run. He appears as a large, red dragon, that players ride upon. WWB_FolloWmE aka me was able to upload this picture of a dragon, the 1st one.
Speed
During the attack part of his usage (See below), he is granted a speed buff slightly less then
Boost
.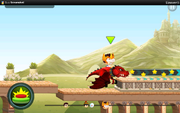 Attack
For a few short seconds after activation, Dragon spews out fire, killing anyone and their pets a short range in front of him (similar to Pyrosaur's first attack phase, only longer ranged for Dragon).
Dragon, as you may have realized, functions quite similarly to BabyLoo. Both grant a speed buff and kill people in front of them. Dragon's breath outranges BabyLoo's claws, however, making Dragon a direct upgrade.
Trivia
Dragon is Only obtained in Legendary eggs or trading
Ad blocker interference detected!
Wikia is a free-to-use site that makes money from advertising. We have a modified experience for viewers using ad blockers

Wikia is not accessible if you've made further modifications. Remove the custom ad blocker rule(s) and the page will load as expected.