Welcome to the Battle run Wiki
This is about the popular iOS, Android, and Kindle game Battle Run, made by Gamehive.  Battle Run is a racing game in which you must get to the other side the fastest. You use special weapons to attack and hinder other players. If you play this game and feel you would like to contribute, feel free! If you are interested in new games, you should check out this wiki. 
News
New Patch: Alpaca needs testing!
Discuss the community and the game at The Community Portal!
Chat with the community! Get to know your fellow users! If you have any questions, ask User:Dacoqrs
Please read Editing Policy before you edit, thanks!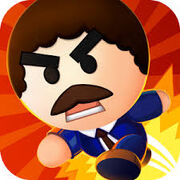 Character pages:
Dust, Macie, Joe, Molly, Spoon, Chip, Violet, Vamp, Shinobi, Chris, and Nacho
Weapon pages:
Throwing Axe, Egg, Bone, Ninja Star, Slime Gun  Homing Rocket, Boomerang, Bats, Chainsaw, Boxing Glove, Robo Shock, Magic, Luchador's Pride, Landmine, Goo, Yarn, Boost, Hoverboard, Meteor Shower, and Drill.
Here's a list of pets, too.
Looking for things to edit?
You can go to Our list of links leading to non-existent pages to see pages needed. You can also message our founder.