Season Two
Edit
Battle Run Season Two is the 2nd season of the game Battle Run. There were several large improvements in this season.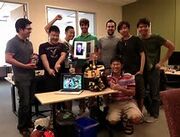 Following Season
Edit
Season Battle Run Season Two is the current season, and therefore the next season has not been released.
About Seasons
Edit
Each Season lasts for a period of time. At the end of the season, players are invited to join the next season, where their League position is reset (to 0 league points) and players recieve Diamonds based on their ranking.
As mentioned on Battle Run Season One, with the release of this season, many players complained about their League points being reset, not understanding that that is what happens during a season change.